AOSTA
---
Prov.: Aosta Region: Valle d'Aosta
Postal Code 11100 Aosta
Area Phone Code 0165
Population 38,010
Alt. 590 mts. above sea level (a.s.l.)
The nearest airport is: Torino/Caselle 105 Km from the city.
Distance in Km from: Roma 750 - Chambery (France) 200 - Milano 185 - Geneve (Switzerland) 143 - Novara 140 - Torino 110 - Breuil/Cervina 53 - Courmayeur 33
Aosta, the so-called "Rome of the Alps", is the Valle d'Aosta's capital and only major city.
As usual in these northern border regions, there's markedly "un-Italian" feel to the place, which has more of a Swiss aura of orderliness and reserve.
Aosta has some fine Roman remains: the Triumphal Arch of Augustus, the Pretorian Gate, the theatre and the amphitheatre.
Not to be missed are the mediaeval Collegiate Church of S. Orso, the Renaissance Cathedral, the Cloisters of S. Orso (Priorato), and the Leper's Tower (Torre del Lebbroso) standing on the Dora.
It is a short, exhilarating ride by cablecar from Aosta to the mountain resort of Courmayeur, gliding silently over the Mount Blanc glacier from where we have a bird's-eye view over the Alps.
Not far from Aosta there are other fine resorts worth visiting like Issogne, the most beautiful castle in Aosta Valley, with an elegant courtyard surrounded by loggias, 15th century frescoes and fine period furniture. Further up is the renowned resort of Saint Vincent and the 15th century Fenis Castle, undoubtedly the region's most spectacular fortified stately home.
The "Fiera di Sant'Orso", the annual wood fair held around Porta Praetoria every 30 and 31 January, honours the town's patron saint. Craftspeople from all over the valley gather to display their carvings.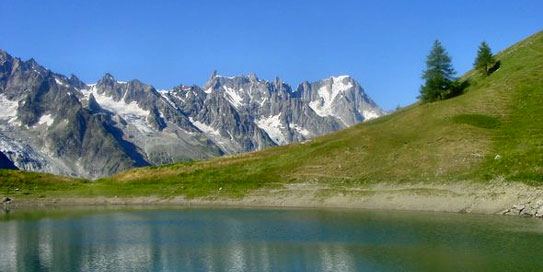 ---