SICILY BY COACH by Jolly Hotels
---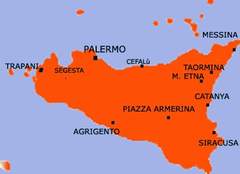 The only problem is an embarrassingly wide choice. You are in the most fascinating island in the world: Sicily. The climate is mild and lovely all year around. Comfortable rooms at the Jolly Hotels in Palermo, Catania, Messina, Syracuse and Agrigento have already been confirmed amidst a landscape and an amazing profusion of archaeological, artistic and gastronomic masterpieces. How lucky you are to discover Sicily with this exclusive program!
Itinerary
1st Day/Saturday Palermo
Independent arrival at the Jolly hotel Palermo. Enjoy a welcome cocktail, dinner and overnight at your hotel.
2nd Day/Sunday Palermo - Segesta - Erice - Trapani - Palermo
After a buffet breakfast, depart for Segesta to visit the Doric Temple which keeps in its stone the weight of a long history, surrounded by a unique landscape. Lunch at a local restaurant in Erice, a medieval town full of myth and history, art and atmosphere located 800 mts above the sea. After lunch enjoy an orientation tour of Trapani's salt-mills. Return to Palermo. Dinner and overnight at Jolly hotel Palermo.
3rd Day/Monday Palermo - Cefalů - Capo d'0rlando - Tindari - Messina
After a buffet breakfast, drive along the coast. Stop in Cefalů, a pleasant restart well known for its beautiful Norman Cathedral and medieval wash-house built in the rock. Proceed to Capo d'Orlando for lunch in a panoramic restaurant just in front of a white sandy beach. Continue to Tindari to admire the magnificent view of the sand-tongues. Continue to Messina. Dinner and overnight at the Jolly hotel Messina.
4th Day/Tuesday Messina - Reggio Calabria - Taormina - Messina
After a buffet breakfast, sea conditions permitilng, embark to Reggio Calabria and visit the museum containing the famous "Bronzi di Riace". Return to Messina and lunch in the panoramic Jolly hotel's restaurant with a view over the Straits of Messina. In the afternoon depart to Taormina, visit the Greek Theater and enjoy time at leisure for shopping or walking through the tiny streets. Dinner in a famous restaurant of the center. Return to Messina and overnight at the Jolly hotel.
5th Day/Wednesday Messina - Mount Etna - Syracuse
After a buffet breakfast, meteorological conditions permitting, excursion up to 1800 meters, to Mount Etna, the highest active volcano of Europe. Lunch in a typical restaurant an the slopes of the Etna Volcano. Proceed to Syracuse. Visit of the Archaeological area including the famous Latomie of the Paradise and the Dionysus "Ear" as well as visit of the island of Ortigia, a singular baroque-style treasure. Dinner and overnight accommodation at the Jolly hotel of Syracuse.
6th Day/Thursday Syracuse - Piazza Armerina - Agrigento*
After a buffet breakfast, depart for Piazza Armerina and visit the worldwide famous Villa Romana del Casale, famed for its well preserved mosaics. Lunch in a typical restaurant and continue to Agrigento. Visit the Valley including the Temples of Juno, Concord, Heracles, Zeus, Castor and Pollux. Dinner at the Jolly hotel della Valle. After dinner enjoy an unforgettable panoramic tour of the Valley of the Temples. Overnight in Agrigento.
7th Day/Friday Agrigento - Monreale - Palermo
After a buffet breakfast depart to Palermo stopping in Mantreale with visit to the "Duomo" (Cathedral), one of the most renowned cloisters in pure Norman style. Lunch at Jolly hotel. In the afternoon visit the city of Palermo including the Cathedral, the Palatine Chapel in the Royal Palace, as well as a panoramic tour of the historical center. Enjoy a farewell dinner. Overnight accommodation at the Jollyhotel.
8th day/Saturday
After a buffet breakfast, end of your tour.
SICILY BY COACH - All year around 7 days all inclusive full board in the Jolly Hotels, deluxe motor-coach, professional tour leader, half-day sightseeing four in the cities visited at the following rates that are net per person to us:
Winter season
(March 6 - 20 - 27)
€ 690,00 in single bath in F/B
€ 585,00 in twin bath in F/B
€ 530,00 in triple bath in F/B.
Summer season
(from April 3rd to October 30th every Saturday)
€ 765,00 in single bath in F/B
€ 660,00 in twin bath in F/B
€ 595,00 in triple bath in F/B.
For better descriptions of the places visited in the above itinerary please refer also to our Tour of Sicily
For operative reasons some departures will have a slightly different itinerary.
The exact itinerary of each departure will be confirmed with the exact day-by-day itinerary with our confirmation.